destination
Wyoming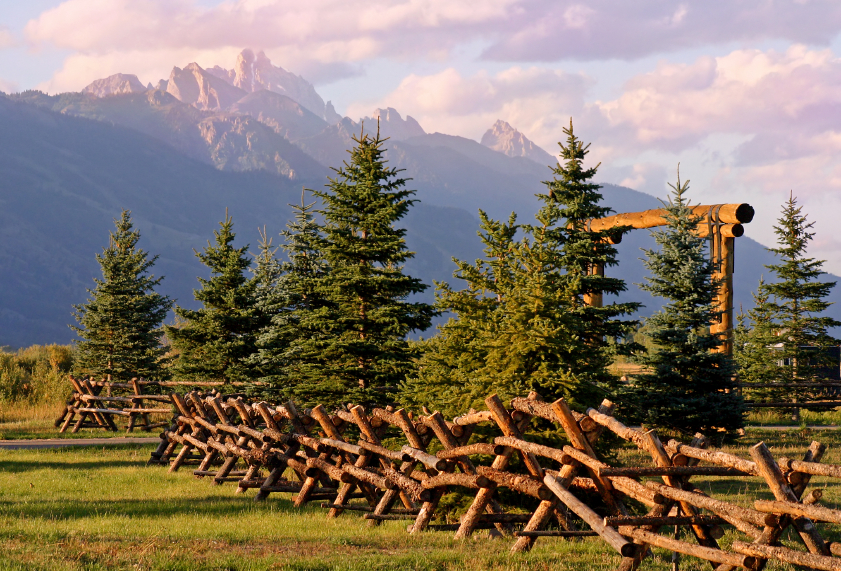 There's a reason Wyoming is often known as "The Cowboy State". With its expansive and legendary open space, incredible bounty of national parks and monuments, and long history of western, pioneering culture, there's no place that better embodies the wild west than Wyoming.
What would a visit to Wyoming be without a stop by a western classic: the rodeo. Although rodeo events occur across the state, the city of Lander claims the oldest rodeo in the world, and it has been a Fourth of July tradition since 1893. For a bigger crowd, though, don't miss the Cheyenne Frontier Days Rodeo, a 10-day event that brings in over 10,000 contestants to compete for some of the nation's top rodeo honors. Keyhole State Park is also a popular draw for both families and individuals, with it's 14,000 acre reservoir that is a natural fit for swimming, boating, and sunbathing.
And for those interested in bringing home a piece of this western culture, Wyoming-made and western products are around every corner. From rustic, home décor to turquoise, hand-made jewelry, Wyoming's craftspeople and artists take as much pride in their products as they do their western heritage. Check out the studio of glass blower Laurie Thal in Teton Village for incredible, functional art, or enjoy the paintings, sculpture, and home-crafted furniture of John Mortensen in Wilson. And while out and about, enjoy the art and culture that Wyoming has to offer, whether its singing cowboys in Cody, the National Museum of Wildlife Art near Jackson, or champion dancers on the Wind River Reservation.
When it comes to the outdoors, Wyoming has no competitors, a fact long recognized by presidents and politicians who designated both the first National Park and first National Monument in the state. Both Yellowstone National Park (the first in the nation) and Grand Teton National Park are renowned for their expanses of wild space and legendary wildlife, including elk, buffalo, gray wolves, pronghorn antelope, eagles, and grizzly and black bears. Yellowstone is also home to iconic spots like the Old Faithful geyser and the serene and beautiful Yellowstone Lake. And with its 13 peaks that exceed 12,000 foot elevation, Grand Teton National Park is a mecca for climbers and hikers, alike. Of course, for geological scenery, few places rival Devil's Tower National Monument (the first national monument), a flat-topped volcanic formation that rises out of the high plains and was immortalized in the film Close Encounters of the Third Kind.
And there's even more beyond these fantastic parks: enjoy water-skiing and boating on any of Wyoming's numerous reservoirs and lakes; cast a line in Wyoming's 4,200 lakes and 27,000 miles of fishable streams; or thrill to adventurous terrain and mountain biking in the Teton Range. Hunters also have a home in Wyoming, with guides and outfitters across the state that are ready to show visitors the best places to track down the state's famous big game. And winter sports about, too. The 2,500 legendary acres of inbounds trails at Jackson Hole Mountain Resort are famed among skiers and snowboarders, world-wide.
All of Wyoming's incredible, outdoor beauty has long attracted people to its landscapes, and it has the history to prove it. Wyoming carries a definitive, western culture, and it is on display in places like the Buffalo Bill Historical Center in Cody, which celebrates the spirit of the American west by weaving together the stories, myth, art, and Native culture that is at the heart of Wyoming's identity. The state is also rich in historical locations, from early cavalry forts to petroglyph art and more, there's something for any history buff. Take a tour of the Old Wyoming State Penitentiary to see the harsh end of the law so many western outlaws found themselves on, or visit the Irma Hotel in Cody to enjoy a recreated shoot-out by the famed Cody Gunfighters, all while enjoying the interior of an 1895 structure that is largely still the original wood-work.
Whether its scenic vistas, challenging outdoor recreation, or engrossing explorations into western art, history, and culture, there are few places that can offer what Wyoming does, where inner cowboys and cowgirls will find everything they are looking for.