destination
Vermont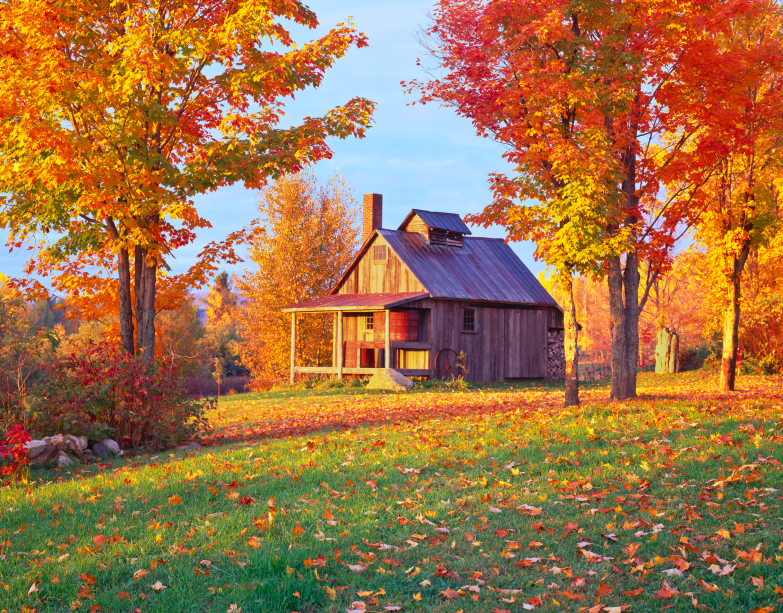 Long known for its beauteous landscape and handcrafted specialties, Vermont is this and much more. Come and explore Vermont's storied history, vibrant cultural scene, and famed trails through its dense and wild woodlands.
Vermont welcomes novice and seasoned hikers to be inspired by its 700 miles of trails, smooth recreation paths, and thousands of miles of dirt roads and country lanes, all featuring endless panoramas. Both the famed Appalachian and Long Trails offer adventurous hiking. In fact, Vermont's Long Trail is the nation's oldest long distance hiking trail – stretching 272 miles from Massachusetts to the Canadian border – and is considered a must-do pilgrimage for avid hikers across the nation. With more than 75 percent of the state covered in forest, Vermont is also home to a wide range of wildlife, so it's no surprise that this is a great place to observe nature in action. Connecting with nature isn't difficult; enjoy bird watching, hunting, fishing, or going on a photographic safari. There are over 80 wildlife management areas throughout the state, including the Missisquoi National Wildlife Refuge, which attracts large flocks of migratory birds to its quiet waters and wetlands. And Vermont's waterways are some of the most fun places to spend time outside. The state is home to thousands of fresh water lakes, ponds, rivers, and streams, all of which are excellent for swimming, fishing, boating, and tubing. Vermont is also home to Lake Champlain, the sixth largest freshwater body in the U.S., covering 435 square miles and offering opportunities for paddling and exploring its 212 miles of shoreline.
With its long history, Vermont is also a state that is rich in historical sites and preserved cultures. The Chimney Point State Historic Site tells the story of the original, native Vermonters, who camped, hunted, and fished their way up and down the Champlain Valley. The colonial American period is also represented in places like Bennington Battle Monument and the Old Constitution House, where early American history is brought to life through reenactments, lectures, exhibits, and special events. And Lake Champlain is the graveyard for countless ships, containing wrecks that date back to the 1700's that can be explored by intrepid scuba divers. And living history can be explored in any of the state's many historic, downtown areas. The visitor will find buildings, streets, and architecture of historical significance along with memorable shopping and dining experiences in small and large towns across the breadth of Vermont.
For those interested in exploring Vermont's unique culture, resident and guest performers keep Vermont stages fully booked. Theatre groups produce a full range of plays, including those by Vermont's established and up-and-coming playwrights. Acclaimed local talent and visiting actors create memorable works for the stage throughout the year, and literary festival and readings feature authors and storytellers from far and wide. Classical music benefits from local and national talent, too. From chamber groups to symphonies and opera, music is at the heart of a Vermont cultural experience, including an abundance of outdoor summer music festivals where the concert location may be just as memorable as the music itself. There's plenty of contemporary music too, such as blues, folk, world, reggae, and more. Some festivals combine indoor and outdoor venues, like Burlington's Discover Jazz Festival, named one of the Top 10 Festivals in the World by Chicago Review's The Music Festival Guide. And Vermont hasn't forgotten the art of dance, with new and exciting works performed at Burlington's Flynn Center and at colleges across the state.
Of course, one of the highlights of any Vermont trip is getting to enjoy locally made crafts and foods. Known for culinary delights such as maple syrup and specialty cheeses, Vermont is home to hundreds of artisan food producers, winemakers, and brewers. Try some incredible produce from any of the state's many small farm markets or indulge in something sweeter with a visit to one of Vermont's large number of chocolatiers, featuring the finest in handmade treats. And for something more permanent, take home a piece of Vermont's fabled woods from one of 12,000 Vermont woodworking studios, offering furniture, musical instruments, and souvenirs of all sorts.
With its inexhaustible wild spaces, community of fine, artisan crafters and food makers, and extensive history, Vermont is the place for any traveler or explorer to spend their next vacation.