destination
Tennessee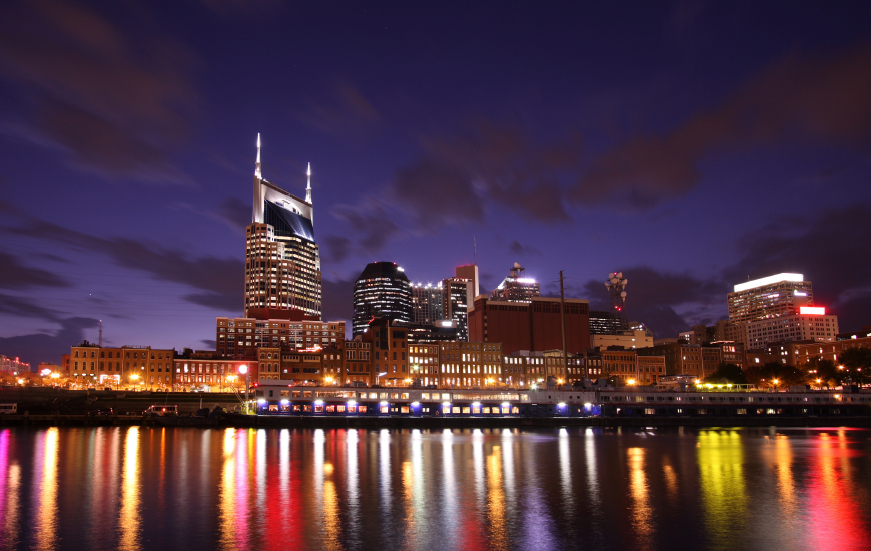 With its bounty of incredible, natural beauty, southern hospitality, serene weather, and more, there is no place quite like Tennessee. From the state's rich history to its cultural significance to its spectacular landscapes: there are simply an endless number of things to see and do in Tennessee.
Tennessee is home to breathtaking wildernesses: cliffs, canyons, lush canopies, and cold, clear plunge pools abound, along with award-winning state parks and the rich heritage of the beloved Smoky Mountain range. Take advantage of unique settings, such as Reelfoot, a bald cypress-filled lake in northwest Tennessee that harbors over 56 fish species, as well as many shore and wading birds, or visit Fall Creek Falls – the single highest plunge eastern waterfall – laced with cascades, gorges, streams, and virgin hardwoods. And don't forget Great Smoky Mountains National Park, an International Biosphere Reserve that encompasses over a half million acres and offers panoramic views, tumbling mountain streams, and unspoiled forests. With more than 8,600 caves, 630 waterfalls, and 260 natural arches, bridges, and rock windows, Tennessee offers a brilliant tapestry of natural wonders guaranteed to entertain the imagination and delight the senses.
In a state that was home to three presidents and boasts heroes of the west like Davy Crockett, Sam Houston, and Daniel Boone, it should be no surprise that Tennessee history has so much to explore. Visit the famed Sun Record Company – where greats like Elvis, Roy Orbison, and Johnny Cash launched their careers – or peer into visions of early, rural life in Tennessee at the Ramsey House Plantation, built in 1797 and featuring exhibits that highlight the history and culture surrounding the structure. Learn about Native Tennesseans at the Chucalissa Archaeological Museum – a reconstruction of a 1,000 year old Indian village that once flourished on the spot – or pay homage to the men and women that helped fight for equality in the U.S. at the National Civil Rights Museum.
Tennessee is well known for its richly diverse music scene, with live music venues that appeal to every taste. Visitors can explore the gospel foundation of many styles of modern music, delve into the broad spectrum of country music, tap toes to the sounds of bluegrass, Americana, and roots music, or let loose to the sounds of good old rock 'n' roll. Jazz and blues have a home in Tennessee, too, and with such a bounty of live music venues – from B.B. King's in Memphis to the Grand Ole Spry in Nashville – there's always a live performance or concert to experience.
With great restaurants, fantastic food festivals, products made locally, and homegrown goodies fresh off the farm, even experienced diners will find something new to try in Tennessee. Dig into some down-home cooking with Tennessee classics like juicy barbecue, famous country hams, and flaky biscuits. Or indulge in upscale and trendy urban eateries with international cuisine and creative twists on traditional southern cooking. Try the Amis Mill Eatery in Rogersville for a unique experience, perched on a hill that overlooks the Big Creek Dam and Waterfall, or choose from both traditional, southern fare and world-class, culinary delights at the 212 Market Restaurant in Chattanooga.
And Tennessee has shopping bargains and bonanzas to enjoy, too! Scout for treasures at the World's Largest Yard Sale, an inspiring road trip like none other during which Tennessee residents in October clean out their closets and stake out their front yards along an incredible 690 miles of the Highway 127 corridor. If antiques are the goal, shop from Kingsport all the way to Memphis, relishing the original and rare in a variety of small and quaint shops. Or, for regional specialties, stop by the Appalachian Center for Craft, which offers strikingly beautiful and locally crafted objects in its galleries. And don't forget to pop into Lynchburg to visit the famed, Jack Daniel's Distillery, where visitors can both view the facilities and walk home with a bargain basket of whiskey and collectors' items.
Travelers looking for a well-rounded experience will find something to love in Tennessee. Whether its engaging the great outdoors, exploring the state's legacy, or wining and dining through Tennessee's legendary music scenes, Tennessee has something for everyone.