destination
South Dakota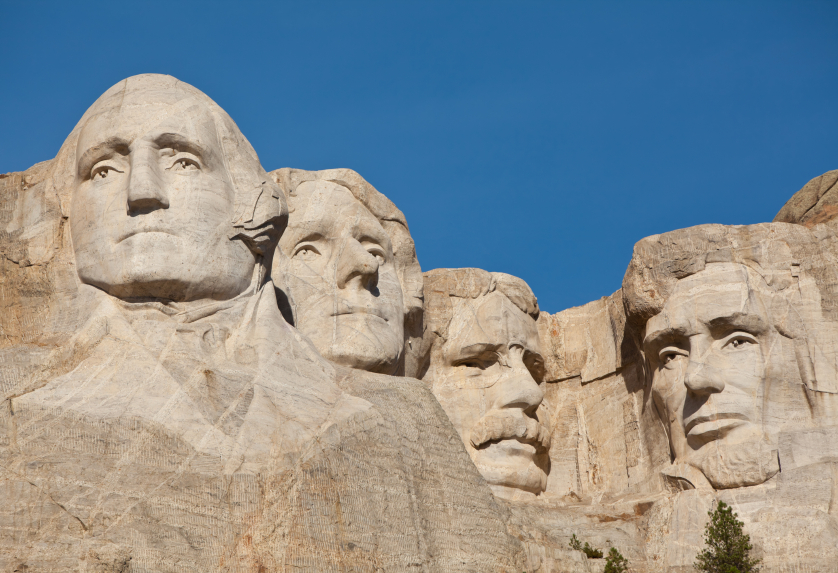 With as vast an experience as the rolling prairies that it is built on, South Dakota is the perfect place to enjoy a vacation. From historic, national monuments, to outdoor adventure, to arts and culture that define the region, there's always something to do and see in South Dakota.
One of the most popular destinations in the state is the famed Mount Rushmore National Memorial, built around the defining feature of four of the nation's greatest presidents' faces, carved into the side of the mountain. The historic town of Deadwood is a must-see as well, where the re-created, turn-of-the-century street lamps light the way through an accurately restored reproduction of this infamous facet of the Wild West. And for a truly South-Dakota-experience, the Corn Palace in Mitchell is the place to stop. Entirely dedicated to the staple crop, visitors can enjoy free, guided tours of the facility, built in 1892 and decorated with designs that are made from corn and other grains.
Whether the interest is hiking, rock climbing, kayaking, hunting, or wildlife viewing, South Dakota has the fix. The state is home to some of the nation's best pheasant hunting and offers countless opportunities to bag big game, waterfowl, turkey, and more on the state's nearly five million acres of public land. And with more than 1,100 square miles of inland water and a fishing season that never closes, angler, too, will find endless choices in South Dakota.
For avid hikers, South Dakota's variety of trails offer something for any level of outdoor trekker. Of particular note is Custer State Park in the Black Hills, which features over 60 miles of trails on its 71,000 acres and nearly 1,300 bison, which freely roam the prairies and hills of the park along with pronghorn, elk, mountain goats, and even wild burros. The state is also home to national treasures like Black Hills National Forest – containing America's oldest mountains, rising to a dizzying 7,242 feet – and Badlands National Park, where millions of years of wind, water, and erosion have created awe-inspiring canyons, chiseled spires, and jagged buttes. Climbers will also find plenty to love in South Dakota. With nearly 500 climbing courses of varying difficulties plotted throughout the state and a diversity of landscape and rock types, any bold adventurer will find something tailored to their interests.
For history – prehistoric or otherwise – South Dakota never fails to please. Thousands of years of evidence of early humans and animals are spread across the state, including some of the nation's richest fossil beds and archaeological remnants. Stop by The Field Museum to inspect "Sue", the most complete Tyrannosaurus Rex skeleton every discovered, or visit the Mitchell Prehistoric Indian Village to learn about the cycle of life in this active excavation of a 1,000 year old village. Additionally, South Dakota treasures the homestead of Laura Ingalls Wilder, famed author of the "Little House" book series. Restored and preserved in De Smet, visitors can spend a day enjoying the many attractions devoted to Wilder's time in South Dakota, including walks through the original Ingalls homestead, covered wagon rides, or even the opportunity to attend a reproduction of an 1880's school session.
Just like its diverse landscape, South Dakota offers visitors a variety of dining choices. From foods that honor the state's heritage (including German, Dutch, and Native American) to modern-day menus with flashy fare, there's something for any manner of diner. Try the Prairie Berry Winery near Mt. Rushmore for complimentary wine tastings and exquisite meals or The Black Steer in Yankton for a hearty cut of some of the state's locally raised cattle.
With its many shopping opportunities, South Dakota can satisfy even the most avid shopper. Large malls abound with quaint gift shops and antique dealers scattered between. The South Dakota Art Museum features a gallery and has a wide variety of unique pieces available for sale, including handmade jewelry, colorful pottery, and west-inspired paintings, and visitors with a sweet-tooth should try the Rushmore Mountain Taffy Shop in Keystone; take home a box of something delicious!
Although South Dakota is known at "the Mount Rushmore State", there's much more to see and do after viewing the state's most famous monument. From great shopping and dining to incredible, outdoor adventures that encapsulate the Great Plains experience, South Dakota has something for any traveler.