destination
South Carolina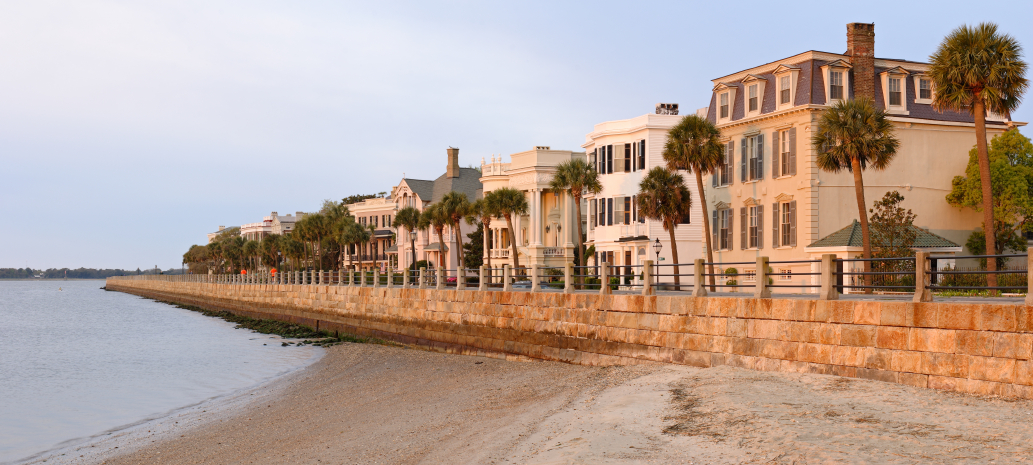 With its marvelous coastline, bounty of wild places, incredible and historic legacy, and variety of shopping and dining experiences, South Carolina is a premiere destination for any vacation.
For water sports, fishing, or just plain relaxing, South Carolina's beaches are both famed and unrivaled. Visit Hilton Head Island for a secluded, romantic getaway, or head to the resorts and beaches in and around Charleston for the ultimate in relaxation and fun. With its incredible boardwalk, the Myrtle Beach Skywheel, the Wonderworks amusement park, and more, a visit to Myrtle Beach is a required stop for family fun. Or dive into water in a different setting at any one of South Carolina's many waterparks, full of water slides, lazy rivers, and leisure pools.
With over 360 championship caliber golf courses, South Carolina is truly a state that's made for golf. From the breathtaking views and elevation changes of the mountain courses, to the gorgeous course layouts along the state's lakes, rivers, and beaches, South Carolina is host to some of the best courses in the country. Play where the pros play on the world famous Harbour Town Golf Links in Hilton Head, home to the PGA Tour RBC Heritage Tournament, or test skills on what Golf Digest has called the "Toughest Course in America", the notorious Ocean Course at Kiawah Island Golf Resort, home to the 2012 PGA Championship.
For travelers with an interest and getting out on the town, South Carolina has a nightlife that is second to none. Wine and dine the night away at the Pavilion Rooftop Bar in Charleston – with a bird's-eye view of the harbor – or take a spin on the dance floors of the Blu Martini in Greenville. And don't pass up the Comedy House in Columbia, home to top-name comics that will keep visitors in stiches all evening.
With such an abundance of wild space, South Carolina is also the place for any traveler who wants to enjoy the outdoors. Kayak or canoe on blackwater rivers or sleep under the stars at any of the state's many campgrounds. And with so many, varied habitats, South Carolina is home to a great diversity of plans and wildlife. Dolphin cruises, alligator swamp tours, and a number of wildlife refuges make for an experience that will have visitors reaching for their cameras. And with over 20 miles of backcountry trails, the Congaree National Park in Hopkins is a preferred destination for hikers and solitude seekers.
With an enduring legacy of colonial heritage and diversity of cultural influences, South Carolina is rich with historical venues and museums to explore. Eager historians can visit Charles Towne Landing – the first permanent English settlement founded in South Carolina – or walk the English gardens of perfectly preserved, colonial plantation homes. Of course, history is on display with even a simple walk through Charleston, a contemporary city with old-world charm, carriage rides, and cobblestone streets. Investigate the distinctive architecture throughout the state that reflects the history of European, African, and Caribbean influence. With more than 1,200 historic sites listed on the National Register of Historic Places, South Carolina will never be short on a new slice of history to explore.
Southern hospitality is a way of life in South Carolina, and the exquisite culinary and dining options throughout the state are testament to this. With timeless roadside diners, elegant dining rooms, and unforgettable, oceanfront restaurants, the state's variety of regional cuisine is sure to please any palate. For fine dining try the MacIntosh in Charleston. Recently named to Bon Appetit's list of 50 best new restaurants, its unique portions of seafood and farm-fare are certain to delight.
And don't forget to take a spin through South Carolina's many shopping opportunities. With a bounty of small markets and antique stores, shoppers can find everything from hand-woven, Gullah sweetgrass baskets (one of the oldest, African art forms practiced in the U.S.) to historical antiques that are relics of days gone by. And for more traditional shopping, The Market Common in Myrtle Beach offers exceptional dining and browsing in a beautifully designed, village setting that contains some of the nation's most celebrated, retail names.
With such a great number of activities and attractions spread throughout the state, its no surprise that so many visitors decide to make South Carolina their destination of choice. Whether its sun and sand, historical explorations, or enjoying the best of the state's cuisine, the Palmetto State has something for everyone.