destination
Rhode Island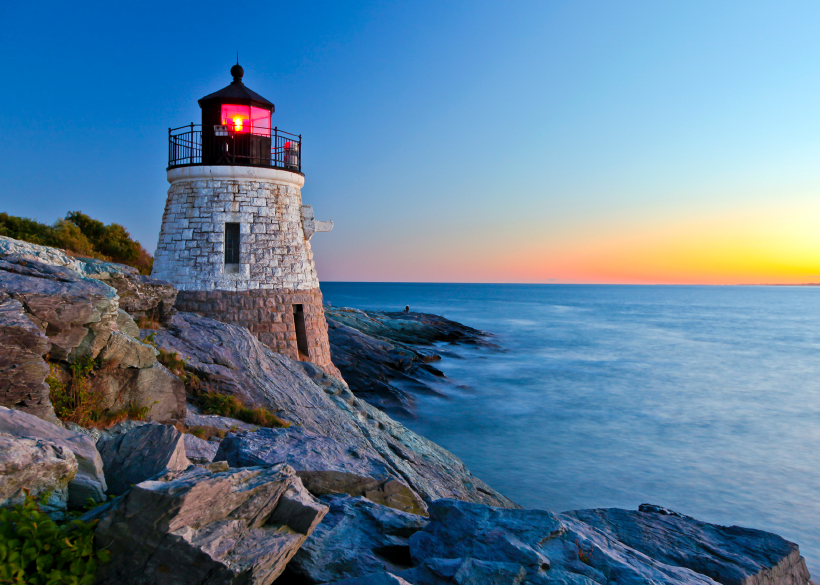 Although Rhode Island is the smallest state in the nation, don't let that fool you: its also the second most densely populated state, a true testament to the variety of things to do and cultures to explore in this vibrant and storied corner of New England.
One thing that Rhode Island will never be short on is beaches. For the visitor in search of fun on the sand, the more shielded beaches of Narragansett Bay feature 'breakwater' barrier protection as well a varied and fluctuating surf. And the bay's protected harbors and inlets provide a perfect refuge to enjoy water-related recreation. Bayside outfitters rent recreational equipment that includes snorkeling gear, boats, jet-skis, canoes, and kayaks. Of course, the state has numerous ocean beaches with thundering surf and miles of stunning vistas. Doze off listening to the waves, take time to build an amazing sandcastle, or stroll the sun-speckled sand beachcombing for shells. And with 400-miles of coastline, Rhode Island is an ideal place to spend the day on the water. Chartering a half-day, day, or multi-day trip is easy, and many captains provide meals, fishing reels, and bait.
With so much waterfront area, it shouldn't be surprising to learn that Rhode Island is also a paradise for anglers. Saltwater fishing is a leading sport in Rhode Island, with giant bluefin tuna, marlin, and swordfish the prized catches. The Ocean State offers in-shore surf and rock casting, bottom fishing in protected bay and shoreline areas, and exciting off-shore game fishing. Fresh water fishing in natural and stocked areas can also be found throughout the state. The scenic Wood and Pawcatuck Rivers offer premier trout fishing throughout spring, summer, and autumn. Other fresh water species such as large mouth bass, northern pike, and perch are abundant in Rhode Island's many ponds and lakes.
Even off the beaches, there's no end to family fun and activities in Rhode Island. Try the Roger Williams Park & Zoo – exciting for children and adults, alike – with its 430 acre Victorian park (established in 1878) that includes waterways, walks, outdoor gardens, a carousel village, and, of course, the Roger Williams Park Zoo. Kids will also delight in the Providence Children's Museum, featuring fun, hands-on exhibits that educate about the state and its ecosystems.
One of the best ways to experience Rhode Island's rich cultural heritage, breathtaking scenery, and delicious cuisine is to explore one of the state's many Heritage Trails. Among them are included the Blackstone Valley Heritage Trail (along which the traveler will encounter colonial period homes, quaint villages, and museums dedicated to preserving artifacts and stories from the days of early, American industry) and the Providence Arts & Culture Trail (with one of the most diverse concentrations of preserved architecture and landmarks in America, a nationally recognized restaurant scene, and plenty of opportunities to dive into the area's vibrant art community).
Rhode Island offers a variety of entertainment venues, too, to suit even the most discriminating theater patrons. Many of the companies are housed in architectural masterpieces that attest to Rhode Island 's grand cultural history. Try the Trinity Repertory Company in Providence that has, in its 47 year history, produced 58 world premieres and trained hundreds of new actors and directors, or the historic Park Theater in Cranston, dedicating its multipurpose venue to everything from concerts to comedy, opera to family shows, and more.
Nature and wild spaces are also on display in Rhode Island. With thousands of acres dedicated to wildlife refuges, more than 100 public and private beaches, and many public gardens, any visitor will find much to do out of doors. Hikers will enjoy trekking through the George Washington Management Area, rich in protected forest habitat that encourages abundant wildlife such as rabbits, deer, a wide variety of waterfowl, and more. The Emily Ruecker Wildlife Refuge, too, is popular among birders and wildlife viewers as it is a favorite nesting site for many coastal birds, including herons, egrets, and osprey. And don't forget to take a short ferry over to Block Island, a natural sanctuary that The Nature Conservancy calls one of the "last twelve great places on earth".
Of course, all of this is just the beginning of any adventure in Rhode Island. With its incredible coastline, vibrant arts, and rich, cultural heritage, there's no better place to spend a vacation.