destination
Oregon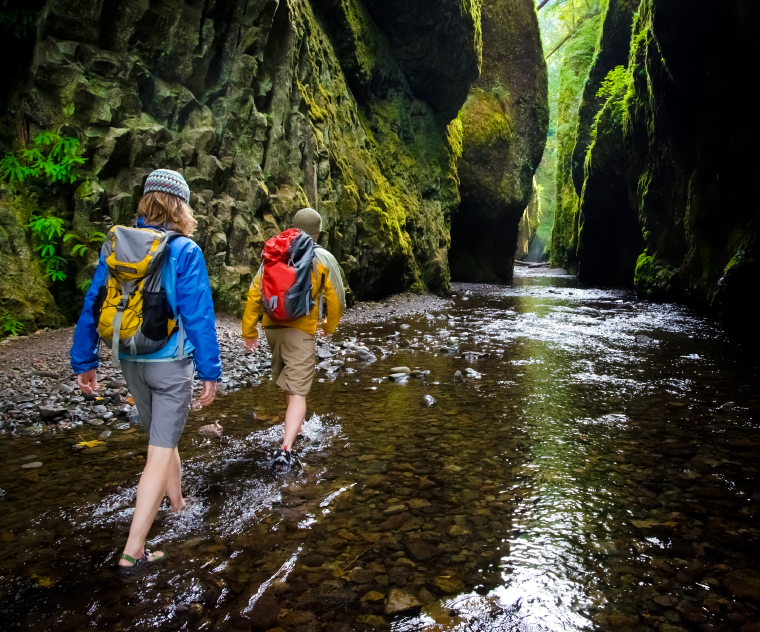 Oregon is a bigger place than most people know. With a beautiful coast, volcanic mountains, crystal-clear lakes, and deserts that stretch as far as the eye can see, the state has been the inspiration for artists, outdoor adventurers, and the home to diverse cultures and history-making events for ages.
For family entertainment, Oregon is a preferred destination. Find finned and feathered fun at Oregon's aquariums, zoos, and animal and aquatic parks, such as the Oregon Zoo in Portland with its countless exhibits, ranging from Asian elephants to zebras. Thrills are on the menu, too, at places like High Life Adventures in Warrenton, where adventurous travelers can enjoy a tour of eight zip lines that zoom visitors around and over a seven acre lake. And for the strange and unique, don't forget the famed Oregon Vortex in Gold Hill, a house of crazy angles and unusual forces where visitors can see unexplainable phenomena such as golf balls that roll uphill!
For the avid shopper, Oregon has nearly limitless options. Try the famed, Portland Saturday Market for anything from specialty foods to local arts and crafts, as well as musical performances on open stages. Or indulge your inner cowboy or girl at Montana Peaks Hat Company, where everyone walks away looking like a true Oregonian. And depending on what time of year it is, Oregon has an incredible selection of seasonal festivals to attend. Ashland hosts the Oregon Shakespeare Festival (running from February to November) and Summerville is home to the Summerville Fall Harvest Festival (during the months of fall), to name just a couple!
Of course, Oregon is well known as one of the best places in the world for outdoor adventure. Whether its world-class golfing, cycling, kayaking, skiing, rafting, windsurfing, or anything outdoors, Oregon has it covered. Explore the heights of Oregon's peaks on the Bald Mountain Trail or relax in a serene setting of ponderosa pine and aspen when camping along Ochoco Creek. Oregon is home to more than 500 bird species, too, many of which can be viewed at birding trails and nature preserves such as Hillsboro's Jackson Bottom Wetlands, known for its bald eagle sightings. And few places in the world have Oregon's diversity and quality of angling. Salmon and halibut dominate the state's 363 miles of Pacific coastline and salmon and steelhead run in major rivers in the central and eastern regions of the state. With countless smaller streams and reservoirs teeming with trout and panfish, there's always someplace new to cast a line. And if getting on the water sounds fun, Oregon's mighty rivers offer miles of thrills and spills, including waterways like the North Umpqua River, rife with gorges, ancient wilderness, and lush forest for the rafting or kayaking adventurer to explore.
Oregon history comes to life at its many heritage centers. From Lewis & Clark and the Oregon Trail to Chinese immigrants on the railroad, Oregon's storied past is on view at the state's many museums. Make a stop at the Heritage Museum in Astoria, where visitors can explore the history of Clatsop County via exhibits that feature artifacts and recollections of Native Americans, early pioneers, and immigrants. Travelers interested in Native American culture will be further intrigued by the Museum at Warm Springs, displaying a storehouse of ancestral treasures of the Wasco, Warm Springs, and Paiute tribes of the Central Oregon reservation.
Oregon also abounds with its own, unique culture, and the state's art studios and galleries are a window into that artistic tradition. Visit the Coos Art Museum in Coos Bay for an opportunity to see changing exhibits and the gallery's highly regarded, permanent print collection of Contemporary Northwest Art. If the stage is sought after, the Elgin Opera House – a beautifully restored, 1912 structure – is a great place for movies, plays, live theater, and entertainment of all types.
Oregon isn't just a place to see; it's a place to DO. From family entertainment and attractions, to historical explorations, to the state's famous and incredible outdoor landscapes: step into the culture and majesty of the west with a visit to Oregon.