destination
New Mexico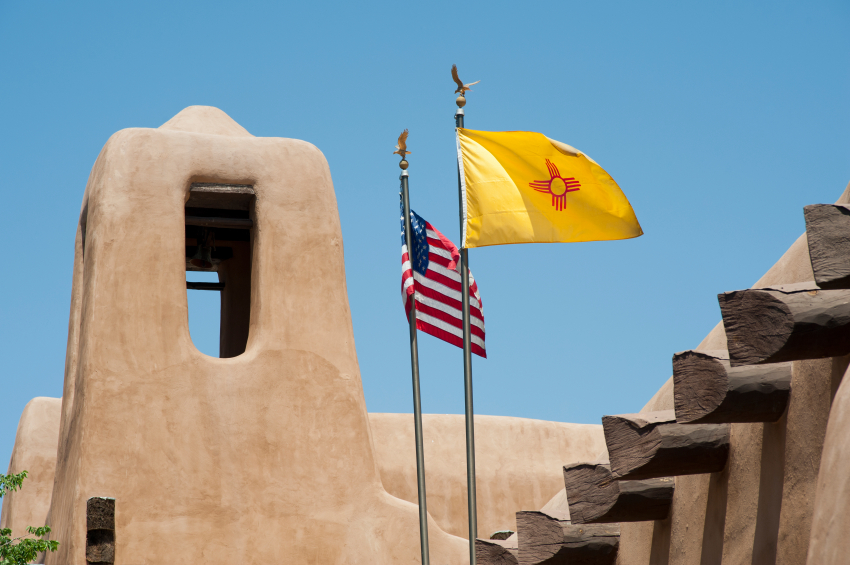 Although New Mexico is often thought of as home to only sand and cactus, nothing could be further from the truth! With an amazingly diverse range of ecosystems and a cultural and artistic heritage that is second to none, there's a whole world to explore beyond the desert.
It's almost as if New Mexico is a work of art in itself. Many kinds of artists come to be inspired by the scenery and culture, and some even make this state their permanent home. Because the arts community thrives here, many galleries have been erected to preserve art and to keep it alive as well. Santa Fe's New Mexico Museum of Art is the home of 20,000 works, including an extensive collection from Georgia O'Keeffe. For those more interested in witnessing what contemporary artists have to offer, consider SITE Santa Fe. This non-profit provides year-round exhibitions of contemporary art with regional, national, and international significance.
When visiting New Mexico, recess begins the moment one enters the state. New Mexico has world class whitewater rafting, fly fishing, kayaking, golfing, hiking, mountain biking, skiing, snowboarding, ballooning, wind surfing, cycling, and even scuba diving. Bird watching is a time-honored pastime in New Mexico too, thanks to the abundance of sanctuaries that migrating birds flock to. The Bosque del Apache National Wildlife Refuge, for instance, is a prime destination for avian enthusiasts throughout the year. In the summer, hummingbirds, young coots, pheasants, Gambel's quail, geese, and others birds can be spotted here. In the fall comes the popular Festival of the Cranes, when 15,000 sandhill cranes return to the refuge for winter.
For staid beauty, The Enchanted Circle – nestled along the southern Rocky Mountains – is a required stop. The sparsely populated and scenically stunning route encircles the Taos Mountains, whose apex is snowcapped, 13,161-foot Wheeler Peak, New Mexico's tallest mountain. Driving this route is a delight, as the pavement clings to each canyon curve and steals through the Moreno Valley with its sweeping views of grassy meadows and mountain passes. With these wide-open spaces calling, few drivers stay in their cars for very long. And for the sports-minded traveler, don't forget about the skiing! Although the state is home to a number of skiing resorts, none are better known and admired than the world-class runs and first-rate facilities of the famed Taos Ski Valley.
For visitors with a mind for luxury and relaxation, New Mexico's bounty of sacred springs and world-renowned spas – rich with traditional and Native-inspired services – is the obvious decision. New Mexico's oases offer countless and unexpected opportunities to be restored and rejuvenated. Try the hot springs in Ojo Caliente, which have been soothing people with their supposed healing powers for centuries. Ojo is the only hot springs in the world with four different types of sulfur-free mineral waters including iron, arsenic, soda and lithia. The iron-based spring's healing properties were revered by Native Americans and the Spanish explorers and settlers that came after them.
And no luxurious escape would be complete without a sample of some of New Mexico's incredibly diverse, regional cuisine. Unlike any other, it is a blend of flavors from Spanish and Native American cultures that has been perfected over the course of 400 years. At the center of it all is the New Mexican chile, in both red and green varieties, which is used in everything from enchiladas to ice cream. What many people don't know is that New Mexico's sun-baked soil and chilly high-desert nights provide fertile ground for a wide variety of wine-grape varietals, as well. Most of the state's wineries are intimate, small to medium-size operations where visitors can talk directly to the winemaker, sample wines, and often picnic on the premises.
With such a range of things to do and see and New Mexico, there's always something new to jump into. Whether its experiencing the serenity of the state's incredible, wide country, enjoying the food, drink, and luxury of the state's many accommodations, or exploring the cultural heritage of the west: every day in New Mexico is an adventure.