destination
Maine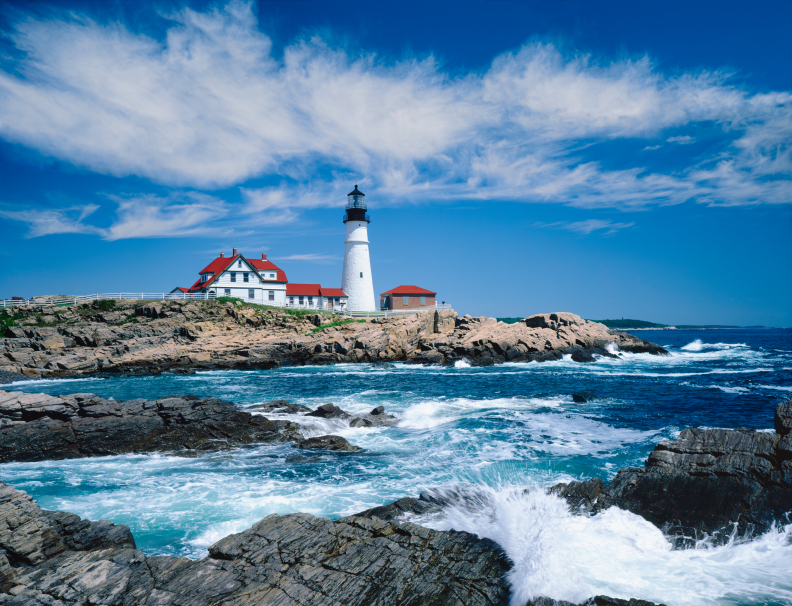 There's a reason Maine is called "Vacationland." Thanks to its unique natural setting, a visitor to the state can find an almost endless variety of things to do. Whether its exploring the trails and backcountry of Maine's national and state parks, investigating the wealth of the state's historical offerings, or participating in any of the state's cultural festivities, there's always something to entertain in Maine.
If you came to Maine to spot wildlife, it's likely you won't be disappointed – especially if you know where and when to look. There are hundreds of thousands of acres of protected wilderness in Maine that are home to the famous Maine moose. Maine is also home to a number of species that are rarely spotted below the northernmost perimeter of the lower 48 states, including the snowy owl, the American marten, and the Canada lynx.
Maine also boasts several world-renowned parks and recreational areas, each of which provides an unforgettable experience to the outdoor lover. There's Acadia National Park, often considered the crown jewel in the nation's park system. Covering 30,000 incredibly scenic acres across Mount Desert Island and featuring the tallest peaks on the eastern seaboard, its simply not to be missed. Further north, explorers can venture into Baxter State park. This 205,000 acre wilderness offers unrivaled hiking and camping and its highest peak – Mt. Katahdin – serves as the northern terminus of the famed Appalachian Trail. For those who'd rather have a paddle in their hands, the Allagash Wilderness Waterway offers a 92 mile corridor of lakes and rivers that is perfect for canoeing or kayaking. Or let an expert Maine river guide lead the way on a whitewater rafting journey through Maine's big river gorges that will include everything from breathtaking rapids to delicious, riverside cookouts.
Maine's incredible 5,500 mile coastline is also a star attraction. Dotted with over 2,000 islands, any trip into coastal waters is guaranteed to be an adventure. Take part in a sea-kayaking tour that winds its way through these islands, beneath sea cliffs, and past all manner of shorebirds and sea mammals. Maine is also famous for its "windjammer", tall ship cruises, from which passengers can experience the scenic beauty of the state's coastline while under soaring tall masts and billowing sails.
Fishing enthusiasts will want to charter a fishing vessel and try their luck with the bluefish, mackerel, and bluefin tuna that patrol the coast. Inland fishing, too, is nothing but world-class in Maine. With more wild brook trout waters than all the other states in the eastern range of the Appalachians (including over one thousand wild brook trout ponds managed for wild sustaining populations) and Maine's standing as the only state outside Alaska with landlocked Arctic Charr, there's undoubtedly a unique fishing experience for anyone. Hunting is also a time-honored tradition in Maine, and for good reason. The state has an abundance of game, vast stretches of rural country, extensive wildlands, and a rich sporting heritage that dates back centuries. Whether you're interested in upland birds or big game like moose, deer, or bear, the Pine Tree State has it all.
Maine has long inspired artists and leaders, builders and dreamers. The state's vistas have been the inspiration for artists like Winslow Homer, Andrew Wyeth, Henry Wadsworth Longfellow, and E.B. White. Maine's pine-covered mountains and rugged coast not only inspired great artists but also men and women whose courage and leadership shaped our country, including Brig. Gen. Joshua Lawrence Chamberlain (the Civil War hero and former governor), Margaret Chase Smith (the first woman to serve in both houses of the U.S. Congress), and Edmund Muskie (the former US senator and secretary of state). Maine's historic art galleries and museums offer a fascinating way to experience the lives of and learn more about these figures.
Fairs and festivals are also a way of life in Maine. Some celebrate the culture and heritage of Maine's people – such as Native Americans, early English and Acadian settlers, and others – while other celebrations highlight Maine food icons such as lobster and wild blueberries. Other festivals include concerts, plays, craft shows, and film screenings, often hosted in unique, outdoor venues such as Victorian gardens, riverside lawns, and oceanfront parks.
Part of the fun of a visit to Maine is its great diversity. From the extravagance of the state's wild outdoors to the historic and cultural import of its many attractions, there will always be something to explore and experience in Maine.