destination
Idaho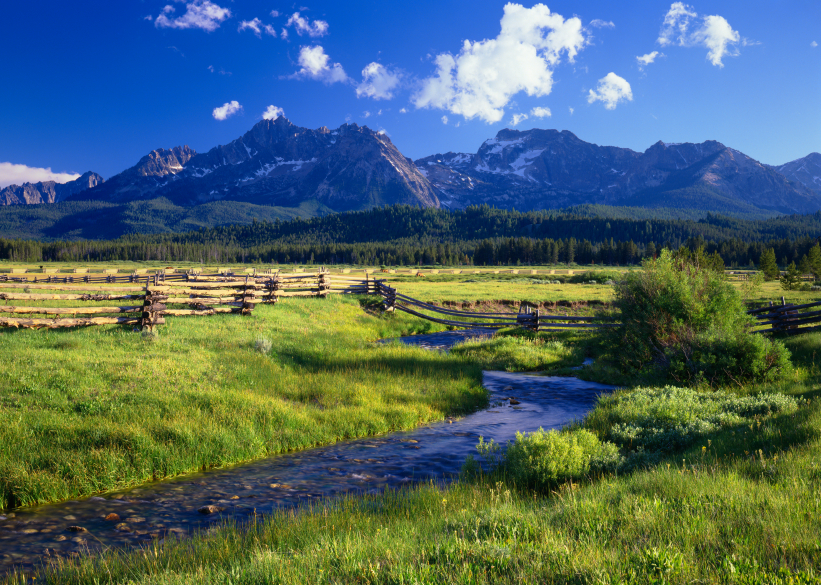 Tucked away in a quiet corner of the northwest, Idaho hides a fortune of cultural, culinary, sporting, and outdoor experiences to enjoy. Visitors with a taste for local culture have a wealth of dining, shopping, art, and music to choose from. Small and large art galleries appear throughout the state, as well as art and food fairs, such as the Art Under the Elms festival with over 100 artist booths, food vendors, and more. The state is also host to a number of wineries, and a stop by any Idaho visitor center will set you up on a driving tour through the wine country. Diners might also consider the Snake River Cuisine Tour, which takes visitors on a journey through the Snake River Valley to enjoy premiere wine and culinary creations.
Golfers will find that Idaho is rich with world-class resorts and undiscovered municipal gems. The Idaho Golf Trail is a golf vacation package that combines eight of the state's best courses with resort-style accommodations. Of course, golfers can also blaze their own trail through the state's courses, each set in country venues that are as astounding to view as they are to play. Fans of colder weather sports aren't left out either! The winter months douse Idaho's skiing resorts in foot upon foot of fresh, light, western powder, which makes for some of the best skiing and boarding in the nation. Try the state's long, perfectly groomed runs or strap on your goggles and dive into world-class, back-country skiing. With so many premiere resorts to choose from – Silver Mountain Resort, Sun Valley, Tamarack Resort, and more – there will always be a new run to explore.
At the heart of any visit to Idaho is exploring and adventuring in the state's great, outdoor country. For water-lovers, Idaho has more whitewater river miles than any other state in the lower 48, including waterways such as the Payette, the Snake, and the Middle Fork of the Salmon. Kayaks, canoes, and rafting tours are all available from many of the state's outfitters. Fishing, too, is renowned in Idaho. From the Silver creek to Henry's Fork, onto the South Fork of the Snake, there are few better fly-fishing opportunities in the world. Gear up locally or bring your own tackle; Idaho is ready to accommodate fishing enthusiasts of any level.
Nearly 70% of Idaho is public land, and with this comes huge acreage that is dedicated to national and state parks and monuments. Hikers and campers of any level of interest will find something to engage them in the Idaho outdoors. For the historical inclined outdoorsman, the state boasts a handful of significant parks, including the California National Historic Trail, the Nez Perce National Historical Park, and, of course, the famous Lewis and Clark National Historic Trail, which recounts and celebrates the path taken by the famed explorers during their travels deep into the unknown, pacific northwest. Recreation and wildlife refuge areas also abound. With over 900 miles of trails, Hell's Canyon National Recreation Area is a hiking wonderland, while birders will be excited to visit Camas National Wildlife Refuge, which hosts up to 50,000 ducks and 3,000 geese during the peak migration months. And no mention of Idaho's parks would be complete without the granddaddy of them all, Yellowstone National Park, which is widely considered to be the first national park in the world. From the famous Old Faithful geyser to its vast and diverse flora and fauna, a visitor could spend a lifetime trying to explore the park's 3,000+ square miles.
Idaho earned its nickname, "the Gem State", thanks to nearly every known type of gemstone having been found here, but one visit to the state is sure to impress upon any visitor that the real gem is Idaho, itself.