destination
Georgia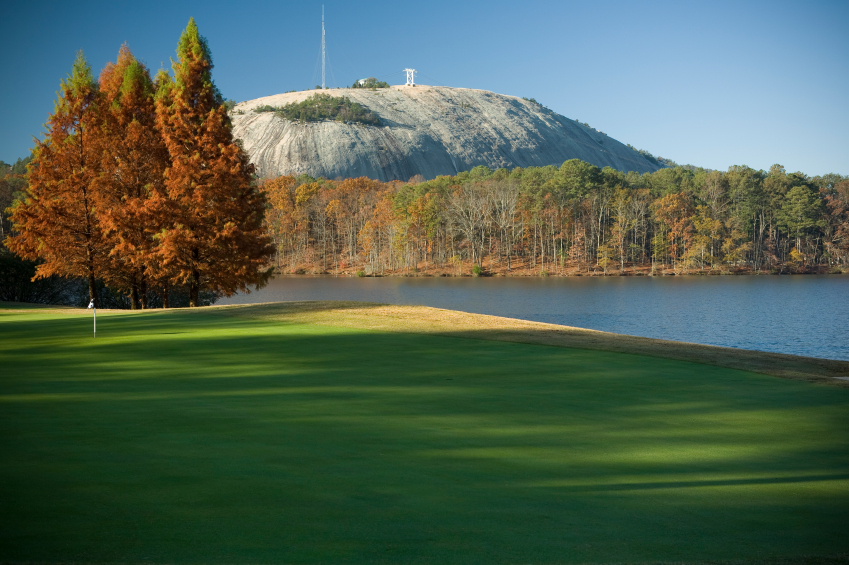 With its long history and expansive size, Georgia finds room in its culture and geography for just about any sort of adventure. Whether your interest is history, sporting, or leisure, you are sure to find lots in Georgia that will make you and your family's vacation extraordinary.
Children and adults alike will love the Sam Shortline Excursion Train, which travels through southwest Georgia in vintage 1949 train cars, giving the entire family a taste of years gone by. Stops include the Georgia Veterans State Park, the Telephone Museum, and the town of Plains, Georgia (Jimmy Carter's childhood home). And don't forget Six Flags Over Georgia, the largest theme park in the southeast. With 11 roller coasters and attractions to suit all ages, the park is sure to please everyone.
Fans of any sort of sporting event have something to see in Georgia. Atlanta is host to NBA, NFL, and MLB teams, and race fans, too, will be entertained at the famous Atlanta Motor Speedway. The quad-oval design of the raceway makes it one of the fastest on the NASCAR circuit! Golf fans won't want to miss the Masters Tournament, the world's most prestigious golf tournament, which takes place each year in Augusta. A tournament of historic import, it was first held in 1934 and has grown to be one of the most popular sporting events in the country. Golfers who miss out on tickets to the tournament still have a wealth of options: Jekyll Island is famous for its four golf courses and numerous other attractions, including biking paths, the Summer Waves Water Park, and the Georgia Sea Turtle Center.
Thanks to it temperate climate and diverse landscape, Georgia is home to an abundance of outdoor sights and attractions. Garden aficionados will love a visit to the Atlanta Botanical Gardens, with seasonal exhibits that will both amaze and educate. Hikers will want to scale Lookout Mountain, just a few miles from the Georgia/Tennessee border. At 1,700 feet above sea level, trekkers can enjoy a panoramic view of seven different states. Additionally, the Rock City Gardens atop the mountain have many family friendly things to experience, including the Enchanted Trail, a self-guided walking tour, 200 million year old rock formations, and more. Visitors inclined to a wilder experience should be sure to visit the Okefenokee National Wildlife Refuge. Established in 1936 to preserve the 438,000 acre swamp and its unique ecosystems, visitors can enjoy a guided boat tour or explore the park on their own via canoes that can be rented from local outfitters.
As a state that was central to the events of the civil war, history buffs will find a long list of battlefield sites and museums to explore. Visitors can take a day trip to the Chickamauga & Chattanooga National Military Park, which commemorates one of the bloodiest battles of that historic conflict. Native American history, too, is on display in Georgia. Tourists can travel the scenic route of the Chieftains Trail through the Appalachian foothills, which will immerse them in a time belonging to three distinct Native cultures: Mississippian, Creek, and Cherokee. Georgia's famous planation system is also available to visitors, who will enjoy the experience of visiting the historic Pebble Hill Plantation, an antebellum manor dating to 1825. The Albany Civil Rights Museum and Institute also is a chance for travelers to engross themselves in the notable history of the state, which celebrates the movement toward equal rights with oral histories, photographs, and educational exhibits which detail the civil rights struggle.
Fans of the arts will also be excited for a visit to Georgia. Atlanta is home to its own symphony orchestra, as well as the Atlanta Ballet and Atlanta Opera, all within a few miles of each other. Also not to be missed is the High Museum of Art, in Atlanta. With over 11,000 works of art in its permanent collection, the High is considered the leading art museum in the southeastern United States.
From art to history to sports to nature, Georgia is all this and more. Plan your visit to Georgia and come experience the southern hospitality that has made the state so famous!