destination
California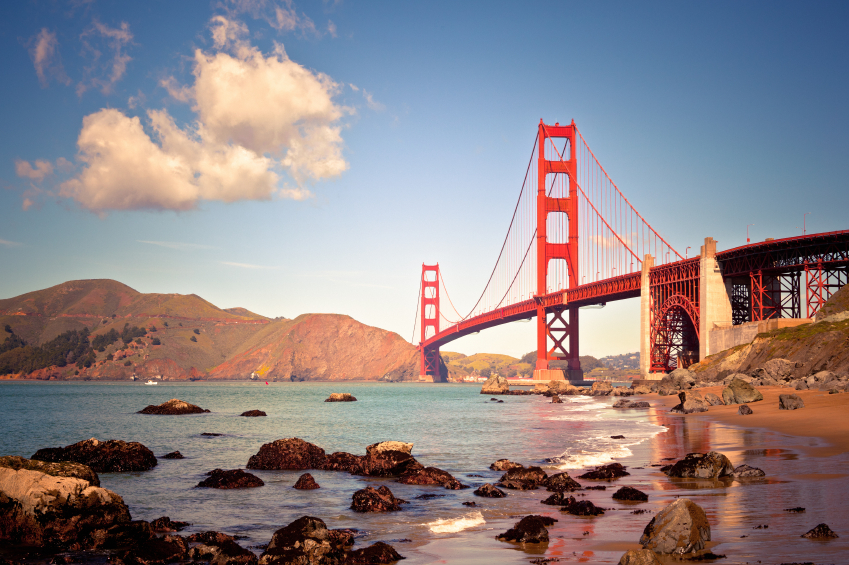 California is the most populous state in the nation, and one visit to its many beaches, museums, restaurants, parks, and more, is sure to explain why. For instance, Griffith Park's 4,000 diverse acres, in Los Angeles, are a popular attraction for visitors. While there, travelers can stop by the Griffith Observatory and explore the wonders of the cosmos from one of Los Angeles' original, large telescopes. While there, don't forget to photograph the world famous "Hollywood" sign! The Los Angeles Zoo is also on the park's grounds, featuring a chimpanzee enclosure that renowned primatologist Jane Goodall called one of the world's best. For pure entertainment, it would be hard to beat California's many amusement parks. World-class aquariums like Sea World and the Monterey Bay Aquarium offer fun and education, though kids are hard pressed to find anything more exciting than a visit to Disneyland, the king of all amusement parks.
Of course, any discussion of California would be remiss to skip by the state's beaches. Visitors have an entire coastline to choose from, including the beautiful Coronado Island in San Diego with its incredible shores and famous vistas (Marilyn Monroe's Some Like It Hot was filmed outside the Hotel Del Coronado in 1959). This is just one spot among many along California's 1,100 miles of coastline, and whether you want stretching expanses of soft sand or rugged and beautiful, oceanside cliffs, the state is sure to please any beach-trotting visitor. The state is also home to some of the world's premiere golf courses. The world-class Pebble Beach course is considered the best public golf course in America and is just a reservation away from any golfer getting their own shot at the links. And it is just one of hundreds of golf courses across the state, where a year-round, temperate climate makes golf a four-season sport.
In a state as vast and geologically diverse as California, there is virtually no limit to what the visiting hiker, camper, and photographer can experience. The state contains 25 national parks, including destinations like Yosemite, Big Sur, and Death Valley. California is home to Mt. Whitney, the highest peak in the 48 contiguous states, as well as Badwater Basin in Death Valley, the lowest point in North America, a mere 90 miles away. Such diverse extremes are symbolic of the range of outdoor adventure that California offers, from deserts to mountains to beaches, and everything between. In how many other places in the U.S. can someone start their morning with a challenging run down a ski slope and close it, hours later, by pulling out a surfboard and catching a wave under the western, setting sky?
In addition to all manner of contemporary attractions, California is also a historic treasure trove. The state is rich with museums dedicated to the diverse, Native American cultures that originally inhabited the land. Historic events like the California Gold Rush – which first brought settlers en masse to the state – are also well documented, and both sites and relics from that period can be viewed in museums. The California missions are also popular sights. These often still-active churches from the era of the Spanish missionaries are architecturally and historically important, and many of the state's major cities – such as San Francisco and San Diego – actually are named for the mission that became the foundation of the modern city.
Visitors in the mood for wining and dining couldn't find a better state to visit. Major metropolitan areas like Los Angeles and San Francisco offer 5-star banqueting and a lively club and bar scene: from dancing to drinking, there's always a reason to stay out late in California. The incredible culture and taste of California's Napa Valley wine region is also a popular draw. The area produces some of the very finest wines in the world in some of the most beautiful country in the state, making it a perfect getaway for couples and wine aficionados of all stripes.
Although California was called the "golden state" for the precious metal that originally drew so many Americans west, a visit to the state is sure to impress upon any visitor the many reasons why that name is as true today as it was so many years ago.