destination
Florida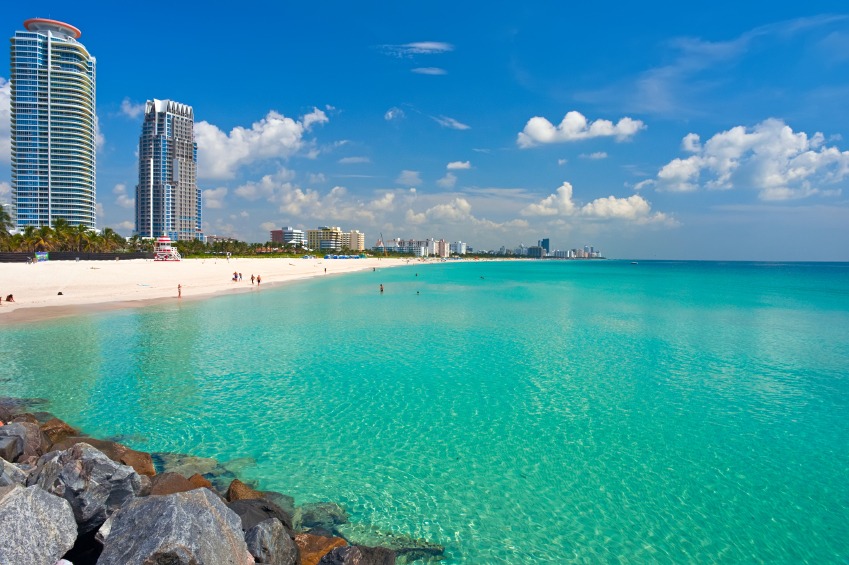 There are few destinations in the U.S. that offer as incredible a diversity of scenery and activity as Florida. From family friendly vacations that center around the state's amusement parks, to historic journeys that travel in and out of the state's wetlands, to shopping and dining experiences that are unrivaled, Florida has it all.
With its incredible number of theme parks, Florida is the premier destination for family vacations. Kids and parents can learn about the ocean and its denizens with a visit to SeaWorld, or simply thrill to rides and entertainment at Busch Gardens or the Universal Orlando Resort. And, of course, no trip to Florida could be complete for children or adults without a visit to the world famous Walt Disney World Resort, with enough to do and see to occupy any family for days.
Couples and singles alike will enjoy any of the countless resorts that abound in Florida. Book your stay for a romantic wedding or honeymoon locale, or simply relax the hours and days away with a loved one at luxury beach resort. Florida is also perfect for those girls' getaways or boys' bachelor weekends, with vibrant nightlife and clubs across the state. Shopping opportunities, too, abound in Florida. From high-end malls, to large outlet centers and antiques shopping districts, shopping is an eclectic and enjoyable experience in Florida.
If wining and dining is your interest, Florida has you covered. The state loves its fresh seafood, such as stone crab claws and grouper, but ethnic cuisine has a storied history as well. Cuban sandwiches, Tupelo honey, and even alligator tail are regional specialties that shouldn't be missed. The state's many gourmet restaurants are sure to satisfy even the most discriminating palate.
With so many miles of pristine coastline, there is a beach in Florida to suit every mood. Whether quiet and secluded or bustling with activity, Florida's beaches are ranked among the best in the nation for beauty, accessibility, and facilities. Enjoy year-round sunshine, soft sand, and clear waters along the Gulf of Mexico and the Atlantic Ocean.
Along with beaches, Florida is literally awash with waterways, with over 7,500 lakes, more than 10,000 miles of rivers, and over 2,000 miles of tidal shoreline. Whether your interest is fresh or salt water sporting, Florida has it covered. For fishing enthusiasts, the diversity of sport fish species, habitats, great weather, and year-round fishing all combine to make the state a fisherman's paradise. Charter a shipping boat with your friends or visit any of the state's many fishing outfitters to get the best information for putting your own fishing adventure together.
Hikers and wildlife watchers will also find Florida to be unsurpassed in depth and diversity. From Key deer in the south, to black bears in the north and central forests, to alligators, dolphins, and manatees throughout the state's waterways, Florida is truly wild. Among the best places to view wildlife and birds is the famed Everglades National Park. Founded in 1947, this historic park covers nearly 1.5 million acres of South Florida wilderness and is abundant with wildlife, Native American history, and pristine swampland. Visitors can explore the park via canoe, air boat, or even on bicycle or foot, with friends or with the assistance of local guides.
Along with its abundance of wild places, Florida is also home to a rich heritage of Native American culture and history. The state has been home to Native American tribes for centuries, among which the most well-known are the Seminole (found throughout Southern Florida) and the Miccosukkee (primarily concentrated in the Everglades). Across Florida, visitors can find museums and interactive programs that will inform and enrich their understanding of this history, which stretches back to 12,000 B.C. In addition to Native American history, Florida boasts some of the oldest cities in the U.S., including St. Augustine and Pensacola. Historic Spanish forts from the time of early explorers and colonizers, along with notable hotels that recall a bygone era of southern finery, will invoke in visitors a sense of the long legacy of peoples and cultures that have inhabited Florida.
Why not make your own history a part of Florida's? One visit to the "Sunshine State" and you'll be sure to want to make it a tradition.